"Jazz is not just music, it's a way of life, it's a way of being, a way of thinking." -Nina Simone
Jazz music has long been considered the foundation of modern American music. The nightlife of early 1900's New Orleans jazz, the sounds of Miles Davis and John Coltrane, and modern jazz fusion have all found their way into Penn High School's band program.
A handful of talented young musicians perform in one of two jazz bands here at Penn, intermediate or advanced. Both ensembles are taught by Aaron Grieser, an assistant band director. He says he loves teaching jazz because "the students I work with are really wonderful kids, they're very enthusiastic, and it's really a good way to change up my day from some of the other mundane things I might be doing, so it's always a lot of fun."
Jazz is an art form as much as it is a genre of music, and many students find themselves through the saxophone solos, trumpet calls, and the flow of jazz music in general. Junior jazz singer Mahima Vinay says "jazz is expression, jazz is fun, it's really something that I feel is devoid but also filled with structure. It's everything and nothing at the same time."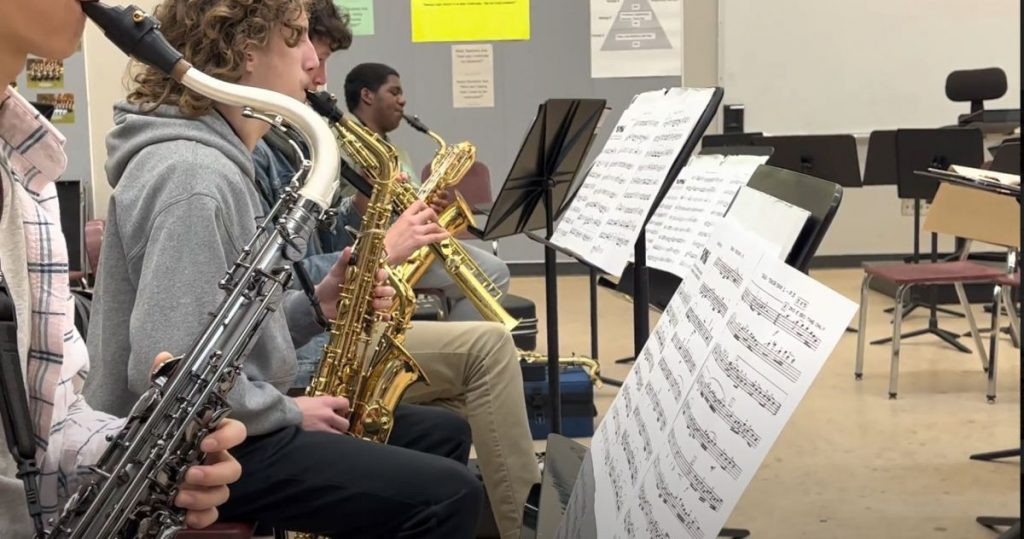 Her experience is shared by her fellow musicians, who all mentioned the importance of self-expression. The style of music promotes improvisation, which causes musicians to "think on their feet," creating new and unique sounds in the process. Without much time to think, jazz musicians often find themselves playing the first thing that comes to mind, an outlet of their creativity through music. Senior Jacob Retek, the number one saxophone player in the state, shares that the outlet is important because "you learn how to improvise and connect with the people you're playing with. It's something that is really difficult to do at first but once you get more into it you learn more about the people you're playing with, and you learn more about yourself too."
Along with expressing themselves, jazz ensembles also help students find a sense of belonging and friendship within the small groups they're a part of. Senior Ben Wrobleski says this is important because "a lot of us in the jazz program have built like really good relationships… so its a good way to build a sense of comradery."
The flowing river of brass sound, creative self-expression, and comradery was all found in both Penn jazz ensembles at the Evening of Jazz on Friday, February 10th. There was also middle school bands, other high schools, and a special guest sax player from Chicago. Many people witnessed the musical and artistic expression that makes Penn Jazz special, so make sure to attend the Evening of Jazz next year.
You can find the full package inside PNN Show 18 here: https://www.youtube.com/watch?v=KGyoiYYeGKg&t=420s