Cross Country Heading to Semi-State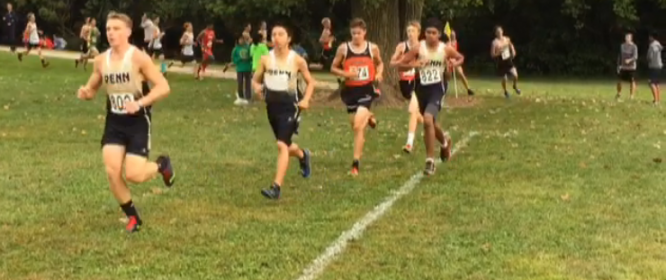 Men and Women's cross country both advance through regional's on Saturday, October 17, after both finishing at or below fourth place at the Ox Bow Park invitational.
For the Women's team, Sophomore Lauren Frank finished the 5,000 meter race with a time of 19:39, placing her in first place individually.  For the Men, Sophomore Colton Shail finished in third place overall with with a time of 16:26.
"During the race we knew it was going to be a battle with Northridge…we made it a team goal to chase down everyone of their runners we could." Said Matt Evans a Senior captain after the race. They will be traveling to the New Haven semi-state at Fort Wayne on October 31.
Men's:
1. Connor Sandt 15.59.0 (Northridge)
2. Colin Richardson 16.18.4 (Mishawaka)
3. Colton Shail 16:26.0 (Penn)
Woman's:
1. Lauren Frank 18.50.6 (Penn)
2. Jessica Duvall 18.51.9 (Mishawaka)
3. Morgan Blyly 18.55.9 (Northridge)