PHS Revises Final Exam Schedule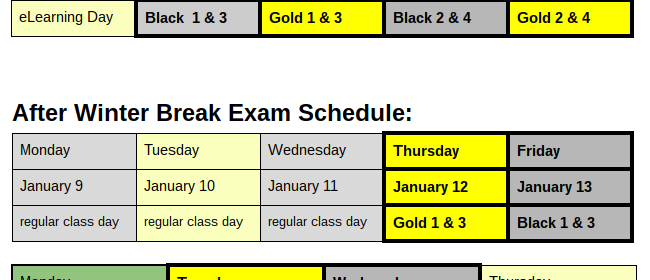 After a second snow day interrupts the plans for final exams, the Penn High School administration released an updated schedule for the semester exams.
While the Black day final exams remain the same, the Gold day exams have been pushed back one day as a result of Monday's closing. Wednesday, December 21st, now has exams scheduled for Blocks 1 & 3 on Gold days, while Friday, December 23rd, originally a regular class day, has exams scheduled for Blocks 2 & 4 on Gold days.
The schedule for exams after Winter Break remains unchanged for the time being, with the first three days of school in January remaining as regular school days. This will give students a chance to study and settle back into their school schedules. Exams are scheduled to resume Thursday, January 12th, and Friday, January 13th for Blocks 1 & 3 on Black and Gold days. After a recess day on Monday, January 16th, for Martin Luther King, Jr. Day, exams then resume for Blocks 2 & 4 on Tuesday, January 17th, and Wednesday, January 18th.  Thursday, January 19th is the scheduled first day of the 2nd semester, a Gold day.
A visual copy of the revised final exam schedule has been shared with all students via Google Docs.