Is music your 'forte'? Join Composers Forum!
What could be better than getting together with some friends and exploring the essentials of writing music? The Composers Forum does just that. They are an exciting club for aspiring musicians, and they are starting up again for their second year at Penn High School.Assistant Director of the Penn Orchestra and Music Theory teacher, Elizabeth Cravens, heads the club.
"Composers Forum is really just an opportunity for students to come and either share the music that they've already written and get feedback from a professional there, which we have [in] Dr. Muniz, or just to begin writing music with other musicians and under the supervision and guidance of a professional." Cravens said.
The club is open to all high school students who are curious about the composition of music.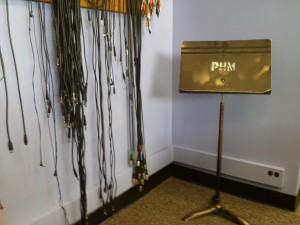 Indiana University of South Bend's magazine for the arts (Aspire) wrote that the students in the club work with Dr. Jorge Muniz, a well respected composer who has had his work played around the world.
"It's not only just beneficial to us in so many ways, he is also just a splendid guy. He has so much experience. He spent his summer teaching composition classes in Spain, and he said it was just wonderful and inspirational. I think he's going to have some of those pieces performed up here in the South Bend area. It's really excellent!" Cravens stated.
Last year, the students brought some music they had written, and Dr. Muniz gave feedback to these students, and even played through their parts.
"One of the students worked on a piece designed for one of the ensembles at IUSB, but he didn't complete it in time for their last concert performance. The students that worked with Dr. Muniz spoke of their growth while writing under his guidance. To me, this outcome is the most valuable of all." Cravens said. She believes Muniz may have some of the files of the pieces from last year that we could view online, but she wasn't quite sure. 
"The ultimate goal is for students to create a composition portfolio, the works of which demonstrate their growth as writers and musicians. It would be a meaningful experience for students to hear at least one their works performed, even if only during a sight-reading session. As a forum, we'll meet every 1-2 weeks to write music with Dr. Muniz as a composition mentor. Students will be able to hear each others' works and dialogue about the composition process. Every meeting will be held at Penn High School and led by Dr. Muniz." Cravens said.
There is also a possibility of exciting visits to IUSB to hear some of Muniz's works.
"It's very possible that students will get the chance to visit IUSB—or another local venue—to hear performances of works by Dr. Muniz's students. Last year, several of us went to the South Bend Symphony Orchestra's performance of Dr. Muniz's Piano Concerto No. 2, American Nights." Cravens said.
With all of this being said, there seemed to be a lot of great opportunities for aspiring composers in this club.
"Well, of course experience with composing, and really some good guidelines on how to write music, and how to think about music. Come just to find out about it, even if you're not sure it's the thing for you, and it should be a good time!"
Cravens was very passionate and excited for another year of this insightful and inspiring club. The next meeting is on September 15th (Monday) at 3:30pm in room 253, which is across from Mr. Anadon's room. If you're enthusiastic about music, and want to collaborate with others, give it a shot!