2018 PHM Community Connections Fair
Since everyone's childhood, we were thought to always help in our community, and that is exactly what the Mishawaka community is doing. Members and families from all around the world that just moved to Mishawaka are being welcomed and helped at Walt Disney Elementary School (4015 Filbert Rd, Mishawaka, IN 46545) on April 21 from 10 a.m to 1 p.m.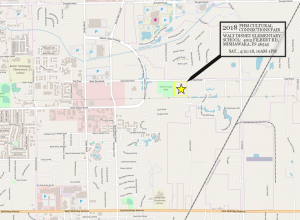 ENL (English New Language) is helping foreign citizens that just moved here and are looking for better opportunities to adapt and understand the steps for this new culture. The event is free of charge, leaving no reason for people that are interested not to show up.
Penn's ENL teacher Mr. Kevin McNulty spoke to PNN (Penn News Network) about the Community Connections fair, he stated that "The Community Connections Fair is an opportunity for families to come out and see what services are offered to them by local companies and organizations" he also commented that "another benefit of the Community Connections Fair is that local organizations will be able to reach out to members of our community that they may not have been in touch with yet.  I think that PHM is providing a nexus for students, parents, service-providers that has not been provided before now. It should be a great event."
At the fair, many local companies and businesses will have their own space to present what they can offer for the community, like Youth Service Bureau, YMCA of Michiana, Star Martial Arts, and more (for the full list scroll down).
Mrs. Bonnie Wolffgang, also an ENL teacher at Penn High School answered a few questions about the CCF (Community Connections Fair), she believes that the fair is very important for families to know what is available to them within the community, from banking, to health, this fair will provide all the information to help foreign students make the best choices. Mrs. Wolfgang also stated that she thinks that in order for the visitor to have the best experience, "try to visit all the stands at the fair, as they are all worth visiting."
Businesses that will be presenting at the event:
City of South Bend Venues Parks & Arts
Kumon Math & Reading Center of Granger
La Casa de Amistad
Adult Education (South Bend Community School Corporation)
Mishawaka Parks Dept.
Girl Scouts of N. Indiana Michiana
Youth Service Bureau of St. Joseph County
Teachers Credit Union
Youth Service Bureau
ETHOS Science Center
St. Joe County Public Library
JINA-CEE
Snite Museum of Art
Robinson Community Learning Center and the ND Center for Arts and Culture
ECA- On My Way PreK
YMCA of Michiana
Purdue Extension
United Youth Theatre
Salvation Army Kroc Center
Welcoming Michiana
Penn PALS Community Preschool Program
Saint Joseph Health System
GALLERY 2910
MDwise
Star Martial Arts
Dr. Angie's Dental Health Exchange
Urban Adventure Games
Healthlinc
Kids Club
Memorial HealthWorks! Kids' Museum