Penn spell bowl team moves to 2-0

The Penn Spell Bowl team added another victory to its record at home Thursday night when it soundly defeated the competition by over forty points at the 16th annual Penn Invitational.
The team missed just one word to finish with a score of 89, 46 points above its next competitor, New Prairie High School. Eight other teams, including Kouts, East Noble, and Goshen came to Mishawaka to compete.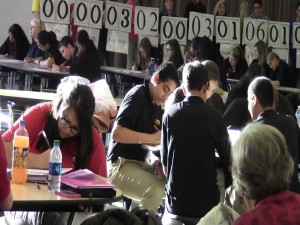 Kevin McNulty | PNN
Penn had many perfect spellers on the night.  They include: Michelle Tapp, Athreya Sundaram, Muqsit Buchh, Yejee Oh, Presto George, Maggie Finnessy, Hannah Smith, Faihaan Arif and Chris Yun.
The Kingsmen hit the road on Monday, October 5th., to compete in Kouts.