African College Students Visit Penn

In March 15, two college students from Africa were visiting Penn to learn more about American high school and the educational differences to their home country. We from PNN had the chance to talk with them and I would like to share my experience with you.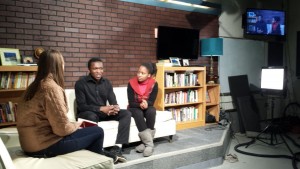 Perfect and Odile both come from Rwanda, a small country in mid-Africa that would fit in the US 373 times. They are part of the Bridge2Rwanda exchange program that was formed in 2007 to create opportunities for Rwandan students to study abroad. The program prepares students to compete for different international scholarships. Once they obtain a scholarship, it connects the students with host families, counselors and career advisors in the U.S. According to bridge2rwanda.org, he broader goal is not only cultural exchange but to equip the participants with the skills of potential employers to pursue a career as a future leader in the business world. Since it is a Christian program, it also involves faith-related elements and wants students to grow in their faith.
As we learned in an interview with the Perfect and Odile, life in Rwanda differs quite a lot from the standards Americans have. From their perspective, the solidarity among neighbors in Rwanda is much stronger than in the US. It is not unusual to be friends with all you neighbors or to know everybody in your subdivision. Rwandans live life with a "you take care of me, I take care of you" mindset. Do you need a hand putting in the tiles for your bathroom? No Problem, your neighbor will he happy to help you. At the same time, he expects you to help him out if a room in his house needs a paint job.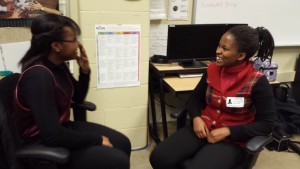 During the interview, I also got the impression that treating others with respect and in an honoring way is really important in the Rwandan culture. Odile remembered how she offered one of her American friends some of her Halloween candy. To her surprise, the friend responded with "No, I'm ok, I'm good." She was shocked that her friend just rejected a gift she offered – she related her experience to how she gives and receives gifts back in Rwanda. "If I want to give you a gift, even if you don't want it, you would just receive it" she said. It's just a polite thing everybody does.
Perfect and Odile live in U.S.since August 2016. Perfect studies at Notre Dame and aims toward a career in technical engineering. Odile, on the other hand, attends the Westmont College in California and majors in Biochemistry. We found out the two are in a relationship since 2 years and already talked about marrying. After graduating, thez return back to Rwanda and begin a career.