Boys Tennis Wins Sectionals

On Wednesday evening, the road to State began for boys tennis teams across Indiana. For the Penn High School tennis team, the path started in our backyard. The Kingsmen hosted South Bend Adams, Marian, and Mishawaka, in hopes to advance to Regionals, the next step closer to an IHSAA State Championship.
In the first match of Sectionals, the Kingsmen took on the Marian Knights, and came out with a strong victory with the score of 5-0. All of the singles had solid performances not dropping a single set to Marian. Will Thurin won both sets 6-1, giving the Kingsmen a 1-0 lead over Marian early in the match.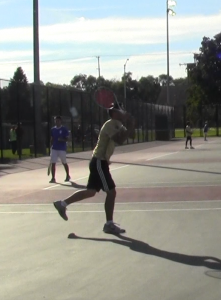 Aidan Sucharetza followed up a Thurin with a solid performance himself, he had shut out Marian in the first set 6-0, and the second set 6-1, giving Penn the early 2-0 lead, putting the Knights in a hole. Peter Yang was the last single to go, rising to the occasion, winning both sets with the scores, 6-3 and 6-4. The strong performances by Thurin, Sucharetza, and Yang, had gotten the match under control by taking a lead, 3-0.
The Kingsmen doubles performed equally as well. The powerful duo of Alvin Wang and Sid Das played lights out and beat the Knights in two sets, 6-0 followed by 6-1. The Kingsmen had gotten a 4-0 lead that had insured the Knights could not mount a comeback.
The duo of Jack Dinnon and Jackson Buhring obliterated the Knights by not allowing them a score. This duo had made it shut down the Knights, and made the score 5-0, securing the win, pushing the Kingsmen to the Sectional Championship.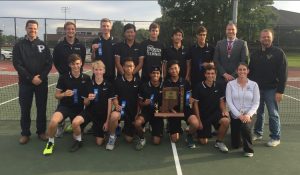 | PNN
The Penn Boys' Tennis team had faced South Bend Adams' in the Sectional Championship match, and cleaned house with a 4-1 victory. The Kingsmen will travel to LaPorte to take on the winner of the South Bend Clay Sectional Tuesday.
Joe Goralczyk | PNN