Bracelets In Honor Of Kassidy Hockert On Sale Now
On February 11th, 2019, Kassidy Hockert was killed in a motor vehicle accident. Today, the Kassidy Hockert Fine Arts & Faith Memorial Fund is selling bracelets to honor her memory.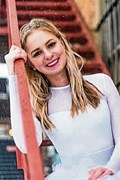 Kassidy loved the Fine Arts. She danced her whole life, since she was four years old. She was in the choral program at Northwood High School before transferring to Penn and joining our Rhapsody Show Choir (as well as many other performing arts programs). Kassidy was planning on going to Indiana University South Bend with a musical theater and dance major.
In her honor, the Kassidy Hockert Fine Arts & Faith Memorial Fund was created. The Fund is selling Mud Love bracelets to raise funds for the Fine Arts, to support something Kassidy loved so much. There are seven different words on each bracelet, words such as "shine", "smile", and "breathe". Each one comes with a story about how Kassidy embodied that word.
Each bracelet is $15 and available for purchase in Mrs. Megan Bidigare's office in the Counseling Center. Share love and support by posting a story, memory, or message with the hastag #BeacauseOfKassidy. And hold her forever in your heart; never forget this strong, talented young woman and all she has done in our school and our lives.