Cheap Date Edition 6: South Bend Tree Lighting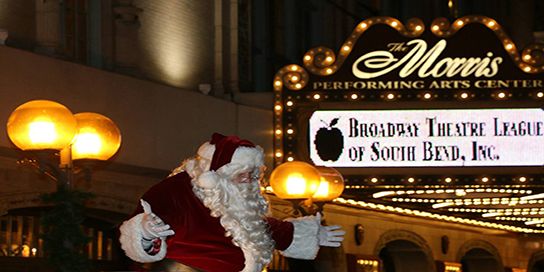 Welcome back to this early holiday edition of Cheap Date. Today we'll be taking a look at the South Bend Tree Lighting Ceremony.
If it's not a family tradition yet, it will be soon! The South Bend Tree Lighting Ceremony features music, dancing, lights, and so much more! Experience the magic of the season with special treats, mingling with the elves, and performances by South Bend Community Schools, the Boys and Girls Club Honor Choir, and Starz Academy. All of this leads up to the main event: the lighting of the giant christmas tree and Santa's arrival! After the lighting of the tree, Santa will lead a parade to the Gridiron where you can watch the fireworks.
After you enjoy the fireworks, you can get in touch with your inner child inside the old College Football Hall of Fame when you visit Santa's Workshop! There's coloring for the little ones, holiday movies, and sometimes even cookie decorating! If you can't make it to Santa's workshop on the night of the Lighting Ceremony, it will be open throughout the rest of December. (See the Downtown South Bend website for a complete list of dates and times, as well as some other holiday-themed events.)
The Tree Lighting Ceremony and opening day of the Workshop will be on Friday, December 4th. The ceremony will start at 5:30 PM in Jon Hunt Plaza, and will end at the former College Football Hall of Fame's Gridiron at 6:30 PM. There is no cost to attend, so bring your friends and family! Start counting down the days until the holidays!