Class Of 2019 Award Winners Announced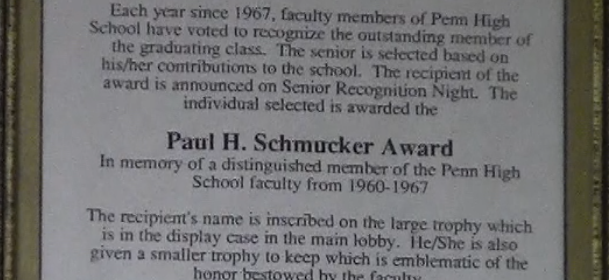 On May 14, prestigious awards were given to all kinds of students in Penn High School. One of the main awards was the Paul H. Shmucker award, won by Caden Paquette.
The Paul H. Shmucker award is given to students based on their contributions to the school. The award is in memory of a distinguished member of the Penn High School faculty. The recipient of the award has a picture of them put up by LGI-A & B. They also get their name engraved on the large trophy in the trophy case.
Caden Paquette, this year's recipient of the award, told PNN, "When you are making decisions you just need to think, 'what your mom would want you to do?'" He also states that, "This award is important to me because the staff members that voted for me, it just shows that I've done a good job exhibiting the right character and showing integrity throughout the school."
The Paul H. Shmucker award was not the only important award given to chosen students at Penn. Corey Wang won the Kingsmen Of The Year award. The recipient of this award is voted on by the senior class based on what the student has done for the school, their academics, and their overall character.