Meet Sean Galiher, the new Penn High School Principal

Mr. Sean Galiher, principal of Schmucker Middle School, will be taking Mr. Steve Hope's place as principal of Penn High School for the coming school year. PNN reporter Brandon King went to the staff meeting to ask our newly appointed principal some questions about his new job.
"I'm definitely excited to be returning to Penn," stated Mr. Galiher. "I continued my teacher career here ten years ago and I know that the teachers here are great and the staff is outstanding, and I'm really looking forward with working with the teachers and students who do a fantastic job."
Galiher was an Associate Principal at Penn before making the move to Schmucker. He also served as Dean of Students and as an Algebra teacher during his years at Penn.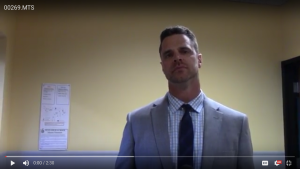 Mr. Galiher has been the principal at Schmucker Middle School since 2013. When asked how he felt about his move back across the street, he said, "I think my time at Schmucker Middle School was both exciting and inspiring…I learned a lot being a new principal there four years ago and I think the growth with regards to what I was able to learn from the teachers there and the students has been fantastic, and I view this as an opportunity to continue to work with all PHM students because Penn High School is where all students will end up and I'm really excited to welcome, especially, my eighth graders here who will be coming over to Penn, and obviously meeting all of the new students here next year coming from different schools."
"My number one priority is to establish relationships this first year and really get to know the teachers here, the students and all the faculty…It's a large building, so there is a lot of adults and students that navigate the hallways here everyday, so my number one goal is to, kinda, build positive relationships with the community, with the students, with the teachers and obviously focus on instruction and what's best for students," Galiher continued.
"I'm most looking forward to collaborating with staff and students and just continuing the great things that Penn has been able to achieve over the course of the last several years and I'm just glad I'm apart of the team and looking forward to that."
All in all, Mr. Galiher is excited to be apart of the Penn High School community. Please give him a warm welcome to Penn High School!