Penn to host Carnival of Bands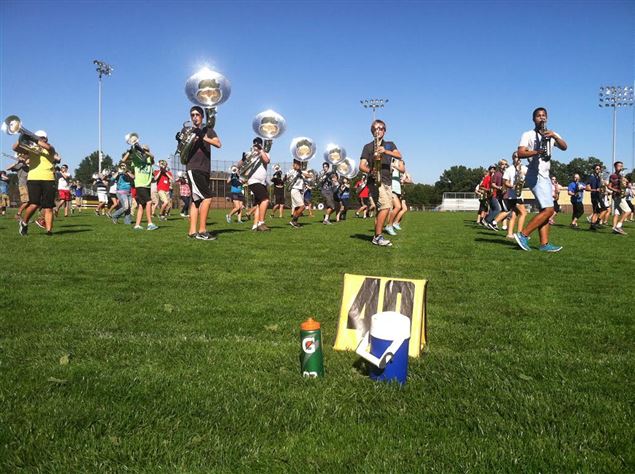 Penn is hosting what could easily be the largest marching band invitational in Indiana this year with 31 bands attending from all over the state.
The Penn Carnival of Bands will be held on Saturday, September 27th. The gates will open at 1:00 pm, and the first band will preform at 2:04 pm. The lineup will begin with Class D bands, then move to C, B, and finally Class A.
The official contest lineup is listed below or at indianamarching.com.
On October 26th of last year, the Marching Kingsmen's season ended all too soon. They placed a close 11th out of 20 bands, one placement away for qualifying for state finals. This year, the Kingsmen plan to return to semi-state with their heads held high and march their way to ISSMA state finals at Lucas Oil Stadium for the 16th time since 1994.
This Invitatonal is extremely important to the Marching Kingsmen. This gives Penn Band the opportunity to perform side-by-side with a handful of 2013 ISSMA state finalists and see how Penn compares. The finalists that will be attending include Adams Central (5th) from D class, NorthWood (4th), Norwell (5th), Fairfield (7th), and Angola (8th) from Class C. From Class B, the 2013 state finalists that will be attending the Carnival are Concord (2nd) and Plymouth (10th) and from Class A is Homestead (3rd), Lake Central (4th), and Goshen (9th).
The Penn Marching Kingsmen are a Class A marching band, but since Penn is hosting, they will not compete. They will, however, still perform their entire show at the end of the night at 10:36 pm.
Good luck to all the bands competing and have a good show, Marching Kingsmen!
OFFICIAL CONTEST LINEUP
Scholastic Small (B)
2:04 PM – Whitko
2:17 PM – Jimtown
2:30 PM – Pioneer
Class D
2:43 PM – Manchester
2:56 PM – Bremen
3:09 PM – Adams Central
Class C
3:22 PM – John Glenn
3:35 PM – Knox
3:48 PM – Twin Lakes
4:01 PM – Leo
4:27 PM – Angola
4:40 PM – Fairfield
4:53 PM – Norwell
5:06 PM – NorthWood
Awards (Scholastic B, Class D & C)
Scholastic Large (A)
5:58 PM – Portage
6:11 PM – South Bend Adams
Class B
6:24 PM – Wawasee
6:37 PM – North Side
6:50 PM – Northridge
7:03 PM – Plymouth
7:16 PM – Concord
Awards (Scholastic A, Class B)
Class A
8:13 PM – Warsaw
8:26 PM – Chesterton
8:39 PM – Elkhart Central
8:52 PM – Elkhart Memorial
9:05 PM – Northrop
9:31 PM – Snider
9:44 PM – LaPorte
9:57 PM – Goshen
10:10 PM – Lake Central
10:23 PM – Homestead
Exhibition
10:36 PM – Penn
Awards (Class A)