Penn Theater Department Performs "The Great Gatsby"

"The Great Gatsby" was performed by the Penn Theater Department on November 13th, 14th, and 15th.
Although centered around the life of Nick Carraway, the show also follows Jay Gatsby and shows how their paths intertwine. The F. Scott Fitzgerald american classic was brought to life, and was packed with drama, deceit, romance, and a touch of comedy.
Thirty seven of Penn's finest actors and twenty six of the best tech members worked tirelessly for six weeks to bring this timeless classic to life for a three show run. Penn High senior Billie Bennett played the lead role of Jordan. She said of working on the show: "It's been kind of stressful, but honestly, it's such a fun experience and working with the cast, it's like a big family."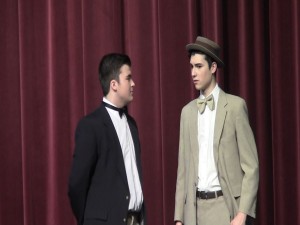 Matt Magaldi, a senior thespian, echoed the sentiment: "I play Jay Gatsby. This is my dream role of all time, and so it's very exciting for me… the process of the show has been very fun. The cast has really gotten close; this is one of the closest casts I've been in."
The director, theater instructor Mrs. Qualls, said that she was "blown away" by the number of people in attendance, with over 950 tickets sold. She also talked about some of the technical elements of the show: "We've brought it to life in a way that I had only hoped would be possible. We have… a beaded curtain that we built, we have a life-size car… that the kids constructed, and just some new things that we're doing in Penn Theater that haven't been done before."
The theater department's next show is Mary Poppins, the musical!
If you're interested in theater, audition packets are now available in the choir room and room 191. Auditions will take place on December 14th in the choir room from 3:30 to 5:30 and 6:30 to 8:30. You may attend either session.