For the past 34 years at PHM, if you needed something fixed or built, you called Tom Hartman. But this January, 2019, Hartman will be retiring.
Since 1984, Hartman, the Director of Facilities, has led Penn's facilities department — all of the heating, air conditioning, electrical, and plumbing work around the school is the domain of his staff. Hartman has also overseen many major construction projects, including the new locker rooms on the south side of the football field and a number of PHM Elementary and Middle schools.
Hartman's colleagues in the facilities department value and respect him and the work he has done for the school corporation. John Corban, Assistant Director of Facilities, knows that Hartman will be missed.
"Tom Hartman is a very good boss, a dedicated person to the school corporation," he told PNN. "I'm pleased and thankful to have been able to work for him for the years I've been here."
Debbie Casper, Facilities Secretary, shared the same appreciation for Hartman and all he's brought to the department.
"Tom has been the best boss I've ever worked for. He's going to be very much missed when he leaves," she said. "Everybody likes him. I've had countless people tell me that they've never done projects for a better person than Tom Hartman."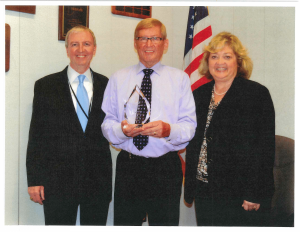 After his retirement, Hartman will be succeeded by Joe Winters, who has worked on contracting projects for the PHM corporation for 23 years, including the recent locker room construction. After eight weeks "shadowing" Hartman, Winters is ready to become the new Director of Facilities this January.
"This [job] brought a different perspective and allowed me to still use my construction background," Winters explained. "[It's] new and exciting and different from what I've done in the past."
The facilities department is excited to work with Joe as well. Casper was thrilled about the future of the corporation with Winters at the helm. "I think Joe's going to fit in just well," she said. "He's been here for several weeks and I think he's going to do a fantastic job."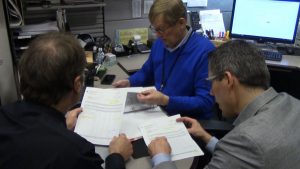 Corban is also optimistic about the corporation's future with Winters. "I think the future of Penn is in good hands with Joe. He's got an extensive background in construction and construction management, he sees detail, and he sees the big picture. It'll be very beneficial for the school to have Joe here."
Changes are abound right now in Penn's facilities department, but at the end of the day, their job is the same–to keep PHM's buildings functioning and running smoothly. No matter who the Director of Facilities is, this goal does not waver.
"We plough snow, we deliver products throughout the corporation that need to get moved… [and] day-to-day we make sure that the buildings are running and functioning," John Corban concludes. "When something goes wrong, we get it fixed. That's my favorite part."
PNN Reporter Riley Pratt co-authored this article.