Spectrum's 'Dried Ink' Writing and Art Contest is Underway!
Every year during the spooky season, Penn's publications class (also known as Spectrum) hosts the Dried Ink Writing and Art Contest. Any student who loves to write, paint, draw, sculpt, or take pictures can submit their work to the contest for the chance to win prizes and be published in Penn's literary magazine.
The contest has existed for over 20 years, providing a creative outlet exclusively for Penn students. According to Caelea Armstrong, Penn's librarian and teacher of the publications class, the Dried Ink contest serves to amplify and celebrate student voice and artistic expression–and there's no better time for students to get creative than during a pandemic.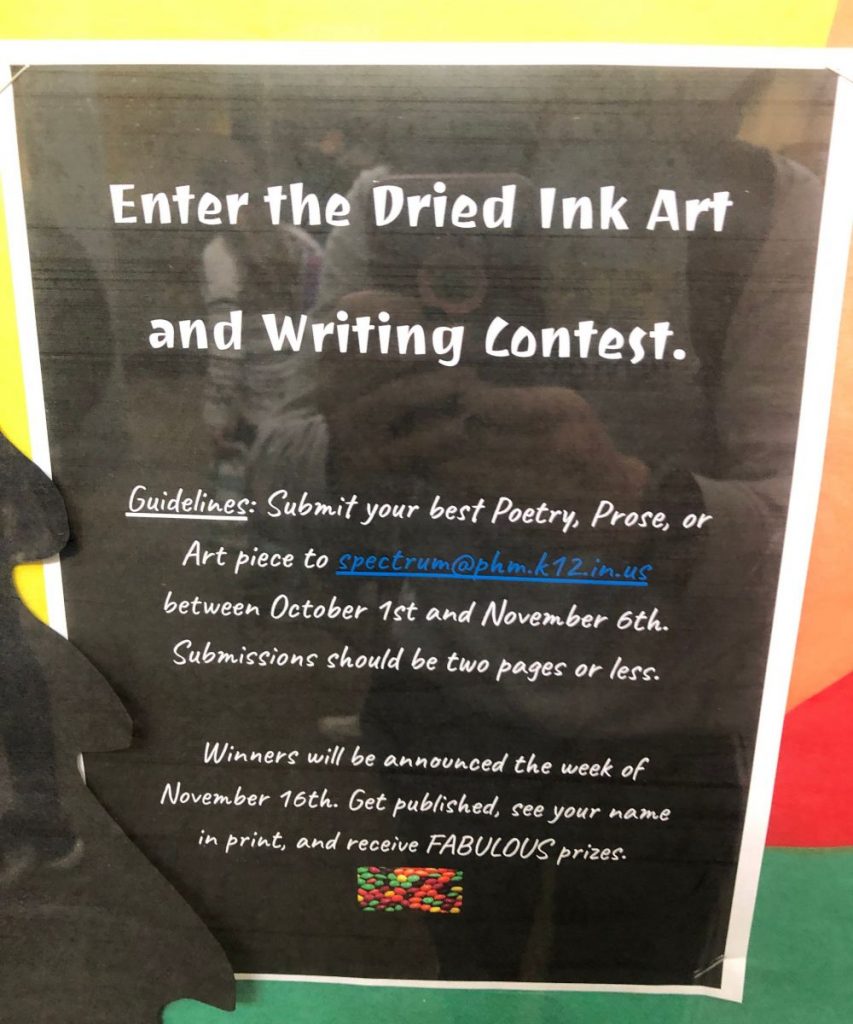 "Our theme this year is sticking with current events and the situation we all find ourselves in," Armstrong said of the contest. "We're looking at the juxtaposition of isolation and quarantine versus the idea of community, and if we took community for granted before."
Students are encouraged to submit poetry, prose, or art inspired by these themes of isolation versus community–or to submit art about something else entirely. "Students don't need to necessarily stick with that theme," Armstrong laughed. "It is pretty broad."
A lead editor of Spectrum magazine, Sarah Horvath, agreed. "This year's theme is going to hit home, because it's such a wide umbrella there's bound to be a piece that everyone can connect to," Horvath told PNN. "It gives way for a lot of creative liberty and I can't wait to see our finished product."
To enter your artistic piece into the contest, email your writing or art to spectrum@phm.k12.in.us. The three categories that will be judged are poetry, prose (any writing that isn't poetry), and art. The last day to submit is November 6th, and winners will be determined by November 13th. 
Winners in each category will receive small prizes such as journals, sketchbooks, markers, pens, paints, and other small extrinsic motivations–but according to Armstrong, the real satisfaction contestants will receive is seeing their name in print in Penn's literary magazine, and the opportunity to say on college applications or resumes that they are published. (Even if those who don't win the contest have a good chance of seeing their work published through Spectrum.)
If you missed the due date for this contest, don't worry–there's always next year, as the contest runs through every October. If you want to be even more involved in the process of publishing creative writing and art, you can join the class that organizes the contest and produces Penn's literary magazine: Spectrum Publications.
"Essentially, we are creative writers and artists who want to take our work a step further and see it published," Armstrong explained when asked about the class. "Whether that means entering contests ourselves, or conducting a contest for Penn students."
Horvath said she was happy and proud to lead such an expressive and dedicated team. "We work with art, writing, photography, and all sorts of media," she said. "Not to mention that we get a variety of people who work together and are like one big family."
According to Ms. Armstrong, all you need to join Spectrum is a love of writing and art. It's as easy as signing up for "student media" when you choose your classes for next year. She can't wait to see you there.