Spell Bowl Qualifies for State Championships!

The sweet spell of success is in the air as the Penn Spell Bowl Team gets ready for this weekend's competition!
The Penn Spell Bowl team will compete on Saturday, November 10th at Loeb Playhouse on the University of Purdue campus.  The competition is set to begin at 10:45 a.m.
Last weekend Manaal Arif, Deena Baki, Yewon Oh, Abbie Hembrecht, and JR Roach spelled perfectly as the team scored an 82 during the Plymouth Regional and now qualify for 2018 State Championships.
| PNN
"It was honestly very nerve wracking since it was regionals." said Seline Wang, team captain of the Spell Bowl team. "Even though we were a bit nervous, all of us got it together and we scored the highest that we've had this season."
Even after their success at regionals, the Penn Spell Bowl team continues to strive and practice in order to get that perfect 90. Ms. O'Brien, coach of the Spell Bowl team, said " This year we've spelled instead of 100 words a practice we've spelled 200 words a practice and we've done more mock competitions."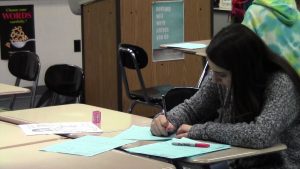 | PNN
Even though Penn lost in a tie breaker for last year's state championships, they continue to retain a positive outlook for their upcoming competition. " Last year we lost in a tie breaker to Terre Haute South Vigo and I looked at the results and I think they spelled a little bit better than us." she teased. "But, I think we're fired up, we remember how it felt last year to lose in that tie breaker, and we're going for them. I'm hoping we spell a 90, that's the goal to spell perfect and I think we can do it."