Penn Media Camp
Welcome to the 2015 Penn Media Camp for 10-14 year-olds.   (June 8th– 12th. -or- June 15th–19th at Penn High School, or in South Bend at the Boys & Girls Club from June 22nd. to the 26th.  Cost is $75 per camper.)
Mr. McNulty, the Mass Media Studies teacher at Penn High School,  invites you to bring your ten to fourteen-year-old to Penn High School to learn to be a broadcaster. Campers will record interviews, shoot footage, and then step into a television studio to shoot  a television news show.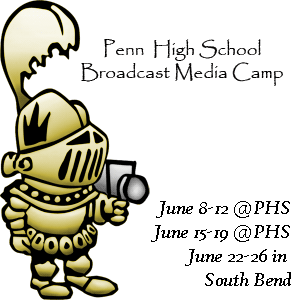 McNulty and high school broadcast students will show campers how to do everything necessary to take a show from concept to reality in one week!
Enrolling in the camp is quick and easy; at the bottom of this page, use the form to reserve your camper's spot, and the PayPal link to pay for the camp.
Your camper can enroll in either an AM session (8:30-11:30) or a PM session (12:30-3:30), and if they enroll with friends, they can make memories together all week.
Every camper leaves with a camp tee-shirt, a DVD of the show, and memorable broadcast experience! You can sign up here!
The campers' week looks like this:
Monday
Camp will begin with warm-up games; these opening activities will help campers and staff get to know one another.  They will then get to know the PNN newsroom and studio by taking a tour of the place and "trying out" some equipment.
When they reach the newsboard, campers and staff will begin with a "PNN Staff Meeting" which will center around the newsboard and the assigning of stories.  Penn Media Campers will be covering other camps on other parts of Penn High School's campus.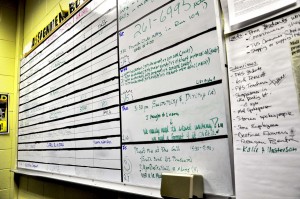 This day will end with planning the next day's shooting and interviewing.  Students will have laid the groundwork for the next day's activities.
Tuesday
When campers return on the second day, they will reacquaint themselves with their partners, their staff-member, and their shooting plan.  They will get some large-group instruction in: the handling of the equipment, the use of camera, tripod, microphone, and audio-monitoring devices.  They will also learn basic shooting concepts.
After a little practice with the equipment, campers and their staff-members will go out to the other camps (which they have been assigned to cover), and they will cover that camp.
They will gather interviews, b-roll footage, natural sounds, and maybe even a stand-up.
While in the field, and under supervision of the staffer, the campers will be invited to post to PNN's social media about what they are observing at the time.  Care will be taken to help campers understand the importance of this part of our news-gathering process.
Students will return to the PNN newsroom to upload their footage to computers, begin writing their narration, and start planning how to tell their story.
(Note: while campers are in the field, Mr. McNulty will maintain constant contact with the camp staff members supervising the campers.)
Wednesday
On the third day of camp, students will begin editing their stories in earnest.  With Mr. McNulty conducting large-group instruction, and staff members mentoring individual groups, campers will begin the process of "non-linear editing." They will begin composing a multimedia story of two to three minutes in length.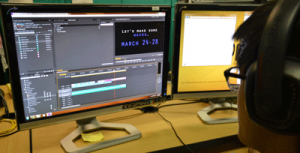 If campers missed shots, interviews, or other elements that would help them tell their story, they will go back out into the field to gather more.  They will be supervised, once again, and the staff member will be in contact with Mr. McNulty and other staff members of the camp. They will return, upload the footage, and continue editing.
Enrichment opportunities present themselves here. Students can share the footage they shot and while one is editing a news package, her partner can be creating a music video with the same footage. This adds to the fun and engagement of the camp, and it keeps students moving and learning at the same time.
Thursday
As stories and segments start getting completed, Mr. McNulty, his staff, and all the campers will "workshop" the stories.  That means the stories will be screened in the newsroom, and the editors will be offered feedback on their work.  Participants talk about what they like about the piece, what questions they have about it, and what they think might be changed to improve it.  Campers return to editing their stories to make final edits.
Campers who finish early will begin writing the show script and planning the show rundown. Under the direction of the PNN staffers, they will begin planning the order of their stories, and the words they will use to report on the camps going on around Penn High School.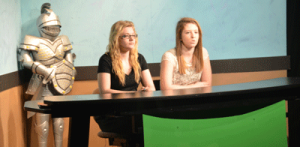 Also, as other campers begin finishing their stories, they will be brought over to the PNN Studio where they will start prepping for the show they will record.  They will get trained in all of the roles and on all of the equipment.  Under the direction of PNN staffers, campers will shoot the entire show themselves on Friday.  On Thursday, they will practice.
Friday
Finally, on Friday, the campers will shoot the show once, twice, maybe three times in the hopes that everyone gets a turn doing each of the jobs in this working studio.  One show will be captured and burned to a disk (as well as posted to the PNN Youtube channel and this website), and each camper will leave with a disk as a souvenir of their week in the Penn Media Camp.
Parents are welcome to come in for this "live-taping" of the show.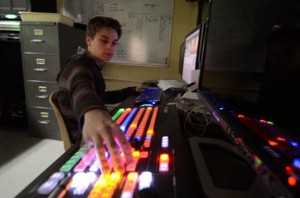 To enroll your child in this camp, please:
 use the Paypal links below to pay for your student's enrollment;