Class of 2017 rules Powder Puff gridiron
On Wednesday night, the juniors shut out the sophomores by a score of 10-0 to take the 2015 Penn Powder Puff crown.
The class of 2017 began the night by beating the freshmen 6-0. The first games lacked luster as the girls got their feet on the TCU-Freed Field turf.
When the seniors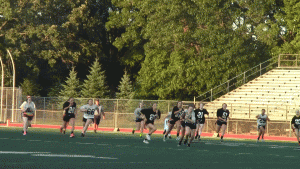 took the field against sophomores, the sophomores had a touchdown taken away, due to a penalty. The game remained scoreless until overtime, and then, in the second overtime the sophomores won 6-0 to advance.
In the championship game, those sophomores faced the a tight-knit junior team.
"Both years we had a really small team which made us closer so I guess we worked together more," junior teammate, McKenna Keppler said.
In the end, the juniors shut down the sophomores and won 10-0 to take the powder puff championship of 2015.
When asked what was different this year compared to previous years, Whiley Weston said "In past years we just didn't connect like we did this year. Which made a huge difference on how we played."
Whiley continued, "I don't think there are words to describe how happy we were when we won. Everyone was just jumping and screaming and high-fiving each other."