Penn Volleyball Serves Up Another Win!

The crowd howled and hooted as the Penn volleyball team claimed their first sectionals victory this season!
Penn High school's Volleyball Team defeated LaPorte, 25-14, 25-13, and 25-16, on Saturday, October 14th. Penn, which is 12th in the state, claimed the Class 4-A South Bend Sectional Championship.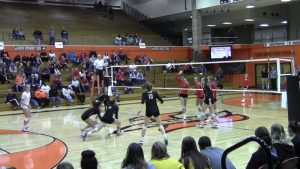 | PNN
"To be here again especially my senior year means a lot to me and the other girls that have experienced what I've experienced in this program," said Alyssa Torres, Senior on the Penn Volleyball Team. She talked about how Penn faced a loss to LaPorte a couple years prior. "Winning tonight and being able to move forward just means the world for our team."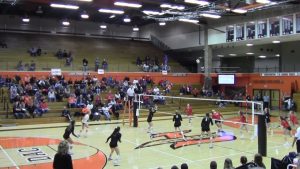 | PNN
Coach Lisa Pawlik, Head Coach of the Penn Volleyball Team, said that they had been working on individual things in order to improve the players' performance and they really showed it in the the match. "I thought they did a really nice job. To be able to win your first game in sectionals out of three is a credit to us." she said.
"These girls have heart, gut, and desire and they learned what that inner it is, to bring it. They learned to fight that one extra step and that's our plan, to bring it."