Tips for AP Success

All the studying, late nights, and registeration has led up to this moment. These next few weeks mark the AP tests that will take place throughout the day at St. Mark Missionary Church. As you know, this is an important test that will measure your knowledge and be a large factor when applying to colleges in the near future.
This could be a stressful time for most students, but PNN's here to give you some helpful hints on how to overcome the anxiety and to feel confident walking into the testing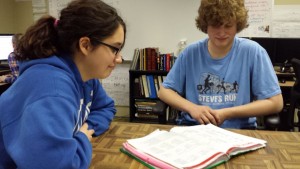 rooms.
First off, don't hit the books hard the night before. Your brain will go into major study mode and it'll prevent you from feeling well rested the morning of the exam. The night before the exam should be relaxing. Read a book, listen to music, go for a casual walk, just do anything to take your mind off the fact that the test is the next day.
When you finally go to bed (which should be earlier than your normal time to ensure the full 9 hours of sleep we should be getting each night), be sure to turn your phone on silent or do not disturb mode. Distractions such as TV, phones, or video games late at night can cause the brain to focus more on the task at hand rather than focusing on the sleep needed. Listen to relaxing music to sooth yourself to sleep, and make sure you have a cool glass of water close by to relax your body.
As you're getting ready for the morning of test day, make sure to lightly review the material. Remember the main things your teachers talked to you about, and review things y
ou struggled with throughout the course of the year.
Remember, you should show up to your testing site at least 10 minutes beforehand, and all belongings should be left in your car or in your bookbags. But bookbags can not be left in the testing room. NO CELL PHONES ARE ALLOWED WHATSOEVER. This test is very important in regards to your future and you never know who's counting on a great score to boost up their credentials. Follow these steps and you're sure to excell during AP testing week. The exam schedule can be found here. Good luck to all participating in such exams.
"May the odds be ever in your favor" – Effie Trinket