Chinese Class Students' Trip to Chinatown
The Chinese student's took a trip to Chinatown, Illinois on Tuesday, October 29th. On the trip they were educated about Chinese culture and history through the experience of the city, shops, and food.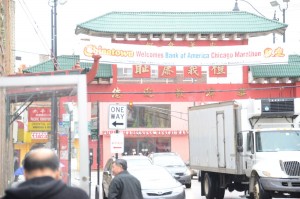 Mrs. Wu, the Chinese teacher, led the trip. Their first stop was at the Raymond B. and Jean T. Lee Center, where they learned about Chinese history. The center displays historical Chinese artifacts as well as an informational movie clip to watch, teaching students about Chinese immigration to America and cultural traditions. "Its just amazing how they figured all this out and made a system to get here" said Austin Wake, a Chinese I student in freshman year.
On the walk to lunch the group stopped at a bakery and students got the opportunity to purchase Chinese desserts. The visit offered insight into traditional Chinese foods and elements of the city culture.
The Ming Hin Cuisine is where the students had lunch. They enjoyed their meal on a traditional spinning Chinese table, AKA a lazy Susan. The purpose of this table is to share all of the meals amongst everyone on the table, a characteristic of Chinese eating etiquette. . "The food is wonderful here," said Mrs. Wu, Chinese teacher for Penn High School.
Penn High School's trip to Chinatown allowed a glimpse into Chinese life and culture while maintaining an American urban setting. It made for an enriching experience to Chinese class students and everyone else who want. To end the eventful trip, students got a chance to purchase items such as candy and yummy bubble tea before embarking back to Penn later that afternoon.