On October 24, 2018, the Penn Chinese classes and club went to Chicago Chinatown to learn more about Chinese culture. After we arrived at Chinatown, we went to Chicago Chinatown museum. There's a lot of history that the students learned from this museum.
The Chinatown Museum showed a documentary about Chinese history, mostly the history of Chinese immigrants bringing their food, holidays, and medicine to Chinatown.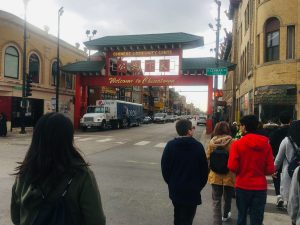 According to the documentary, in China, medicine is different from the rest of the world. Two thousand five hundred years ago in China, the doctors were called zhōng yī (中医). The ways that they treated medical issues were different. They used traditional Chinese medicine which uses multiple different wild plants to heal the body. Although Chinese medicine tastes very disgusting, the yin & yang format is used to treat illness. A special technique of different size of needles is inserted into the body, an even the food you eat every day has special benefits for your body.
At the very end of the video, they talked about the history of Chinese food. Every state in China has different kinds of food styles, and they named the styles of the food by the state they're made in, no matter what kind of food it was. The Chinese always have a standard (色香味俱全), for the looks, smell, and taste of their food. In China, foods are related to holidays too–every holiday has their own stories and a specific food that goes with it. After the video, the classes and club walked around the museum.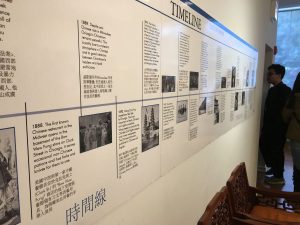 After visiting the museum, they broke up into different groups (but all the group decided to eat first), then all the Penn students went shopping! The entire field trip was fun and informational for all Chinese learning students.