Earthquakes In Southeast Turkey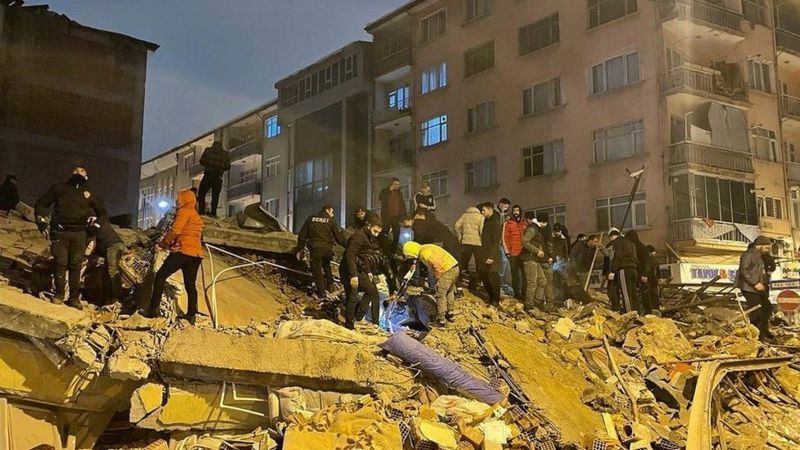 According to a South Korean news article, a powerful earthquake hit the sleeping citizens at dawn on the 6th (local time) in the southeastern region of Turkiye near the Syrian border, killing more than 500 people and trapping many people in the wreckage of buildings. rice field.
The U.S. Geological Survey (USGS) announced that a magnitude 7.8 earthquake with a depth of 17.9km occurred near Nas Antep at 4:17 a.m. local time.
The death toll has now risen to 284, said Vice President Poato Oktay Czurkieki.
In Syria, the border country, more than 230 people were killed, according to a government-run report.
Syrian health officials said deaths occurred in Aleppo, Latakia, Qaba and Tartus regions.
Many buildings have collapsed in the quake, and as rescuers search for survivors in the wreckage of huge buildings, there are fears that the death toll will rise sharply as time goes on.
Interior Minister Suleiman Soyil Churkiye said 10 cities including Gazantef, Karamammaras, Hatay, Osmaniye, Adiyaman, Malatya, Sanliurpa, Adana, Diyarbakir and Kilis were affected by the earthquake.
Local authorities in the Marathia region, which fell northeast of Gaziantef, said at least 23 people were killed, while 17 people were found dead in Sanliurfa, to the east. More deaths were reported in Diyarbakir and Osmaniye.
A total of 2,323 people have been injured in Turkey and 639 in Syria.
A BBC correspondent in Diyarbakir reports that a shopping mall in the city has collapsed.
Syrian state media said the highest number of deaths occurred in Aleppo, Qaba and Latakia regions.
Turkish seismologists estimated the strength of the latest quake at 7.4 magnitude and explained that a second quake hit the same area just minutes later.
한국 뉴스 기사에 따르면, 시리아 국경과 가까운 튀르키예 남동부 지역에서 6일(현지시간) 새벽에 강력한 지진이 잠자던 시민들을 덮쳐 500여 명이 숨지고 많은 사람이 건물 잔해에 갇혔다.
미 지질조사국(USGS)은 현지 시각으로 새벽 4시 17분 가지안테프주 인근에서 17.9km 깊이의 규모 7.8의 지진이 발생했다고 밝혔다.
푸아트 옥타이 튀르키예키 부통령은 현재 사망자 수가 284명으로 증가했다고 밝혔다.
접경국 시리아에서도 230여 명이 사망했다는 관영 보도가 나왔다.
시리아 보건 당국은 알레포, 라타키아, 하마, 타르투스 지역에서 사망자가 발생했다고 밝혔다.
이번 지진으로 수많은 건물이 붕괴해 거대한 건물 잔해에서 구조대가 생존자들을 찾고 있으나, 시간이 갈수록 사망자 수가 급증할 것이라는 우려가 나오고 있다.
술레이먼 소일루 튀르키예 내무장관은 가지안테프, 카라만마라스, 하타이, 오스마니예, 아디야만, 말라티아, 산리우르파, 아다나, 디야르바키르, 킬리스 등 도시 10곳이 이번 지진 피해를 입었다고 밝혔다.
가지안테프에서 북동쪽으로 떨어진 말라티아 지방의 현지 당국은 최소 23명이 사망했다고 밝혔으며, 동쪽의 산리우르파에서는 17명이 사망한 것으로 알려졌다. 디야르바키르와 오스마니예에서는 더 많은 사망자가 보고됐다.
부상자는 현재까지 터키에서 2323명, 시리아에서 639명으로 집계됐다.
디야르바키르의 BBC 특파원은 시내의 한 쇼핑몰이 무너졌다고 보도했다.
시리아 국영 언론에 따르면 알레포, 하마, 라타키아 지역에서 많은 사망자가 발생했다고 한다.
터키 지진학자들은 이번 지진의 강도를 7.4 규모로 추정했으며, 불과 몇 분 뒤 2번째 지진이 같은 지역을 강타했다고 설명했다.