Kingsmen Boys Basketball take the Win against Marian
With over 4,500 seats taken, 2 ecstatic student sections, and a chance for a Penn record to be broken, Friday, January 20th in Penn's Palace was a night to remember. Before the start of the game both Marian and Penn's basketball team announced their starting lineups. Penn blew Marian's entrance out of the water as the Penn Student Section turned on their phone flashlights and waved them in the air. This created a glow across the arena, hyping up and highlighting the Penn Kingsmen.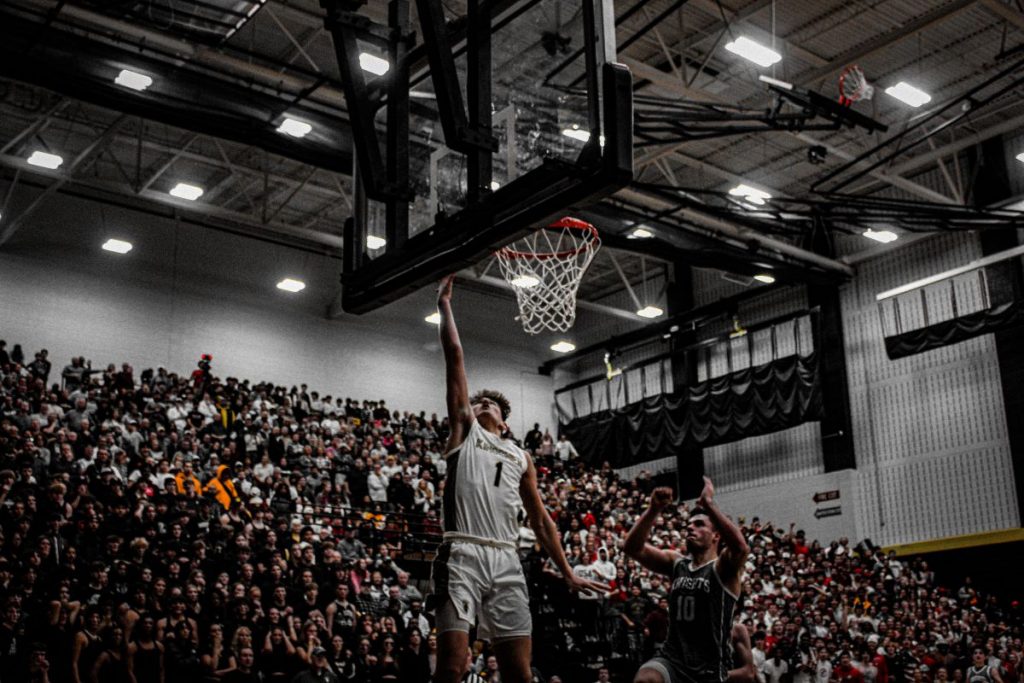 Penn and Marian have been rivals for many years and while Penn leads the all-time series, Marian had an 8-game win streak against Penn. As this was a Top Ten matchup, everyone wanted to be there to see it. With over 4,500 people in attendance, the majority of the student section and seats were full before the start of the Junior Varsity game. By the start of the Varsity game, the Palace was full.
"It's important that we stay locked in and we continue to work hard throughout the rest of the season"

Joey Garwood
During the first quarter, Markus was on track to beat the record. By the second quarter, he did just that, breaking Noah Applegate's previous school record of 1,709 career points. With a stolen ball Markus Burton made his way down the court for an easy lay-up making history. Now, Markus has the chance to raise that bar and set the Saint. Joe County scoring record.
For the entirety of the game, Penn held a steady lead over Marian with an average 10-point gap. With the Kingsmen making great blocks, steals, and shots, they eventually found the win by the end of the 4th quarter. The final score was Penn 66, and Marian 52. While Joey Garwood was letting the seconds tick away the Penn Student Section was getting out of their seats. With the clock running down the only thing between the students and the court was our one and only principal Dr. Galiher. When the clock ran out and Dr. Galiher gave the signal, Penn Kingsmen flooded the court.
At the end of a long and awaited night, all 4,500 attendees left the Palace and the Penn Kingsmen has another win under their belt. This is Ben Burns reporting for PNN,