Red For Ed Rally Leads Over 100 Schools To Cancel
Over 100 Indiana school districts will be closed Tuesday, November 19th, for the Red for Education rally in Indianapolis. More than 13,000 teachers across the state are expected to gather at the statehouse to rally for public education. State legislators will return to the capital to start their 2020 agendas on the day of the rally. Members of this organization can be identified by their red shirts displaying the ISTA symbol.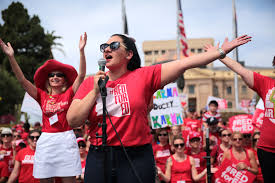 In the 2016-2017 season, the minimum salary for teachers across Indiana was $36,355, according to the "Indiana Teacher Compensation Report for the 2017-2018 school year." A teacher's average salary was $50,614 in the 2017-2018 school year. The average wage for most states ranges from $54,200-$ 67,400, which is significantly higher than Indiana's. At an earlier rally in March, unexpected crowds arrived in front of the Statehouse to protest for better pay. School days weren't interfered with as the march was on a Saturday. During last year's legislative season, education was only given a 2.5% raise to supplement two years, but schools were still unable to pay any of the teachers the savings they were promised from that raise. According to ISTA leaders, "Lawmakers must demonstrate a commitment to addressing teacher pay by using the state's budget surplus to begin increasing base salaries for teachers." Indiana teachers' salaries sit last in the entire nation. Spending per student only amounts to $8,496, which leaves teachers unable to purchase enough supplies for their classrooms.
Participants will start the day at 9 AM on the lawn of the Statehouse. From there, they will march their way around the whole building until they get inside the Statehouse. Most Indiana schools have arranged to close school as part of their staff will be gone. Penn teachers have expressed interest and want to join the other thousands of educators who are anticipated to show up. P-H-M schools support their teachers and will be closed on Tuesday, November 19th. Administrators, Custodians, and maintenance will still report for work, or they will be expected to take a personal day. The principals will announce adjusted extra-circulars before the date. Because there is no e-learning, the last day of school for students will be June 4th, 2020.
For more information on the ISTA, visit,https://www.ista-in.org/blog/tags/red-for-ed