smokey the bear celebrates 75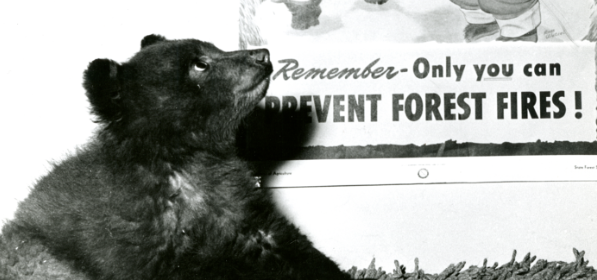 This past August, the bear we all know and love turned 75 years old. Smokey the Bear is an American campaign and advertising icon created by the U.S. Forest Service with artist Albert Staehle, possibly in collaboration with writer and art critic Harold Rosenberg.
He is based on a bear that got burned in a forest fire in New Mexico. He survived by climbing up in a tree, but the tree still got charred since it was directly in the path of the fire. He was a lone cub and taken to Santa Fe for medical treatment on his burned paws. After he was sent to the national zoo in Washington DC to shine amongst other well-known animals.
Since then Smokey the Bear has been turned into a cartoon character. He serves as an excellent symbol for teaching kids about how to prevent fires and the dangers of fires. In addition, Smokey has his own zip code where kids send him tons of letters and even the occasional pot of honey. Or if you want a letter from him just write him and "ZIP it" with 20252.

Although his image has changed very much in the past 75 years Smokey will always remain the soft and cuddly bear that charred his paws. For additional information about Smokey and how he came to be go to https://www.fs.fed.us/features/story-smokey-bear