Whirlpool challenges penn students to innovate

Introduction to Engineering and AP Seminar students have been teaming up for four years to offer solutions to real-world problems that persist in business.  The planning, designing, collaborating, constructing, and the presenting all take place in partnership with Whirlpool Corporation.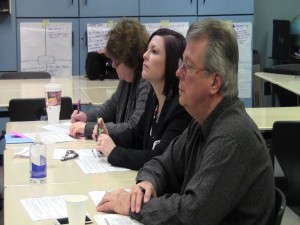 The Whirlpool Innovative Challenge  offers Penn students a project-based learning curriculum that motivates students to present solutions to difficult problems.  Jim Sauer, AP Seminar teacher remembers the first challenge. 
"The first year was really narrow. They said, 'nobody uses their lockers at Penn high school, so what if there were a locker that people would actually use? What would that look like?  So they came up with different ideas, different types of lockers that kids might be interested in."
That project led to students reworking the Gladiator line of storage solutions.  Whirlpool delivered thousands of dollars worth of "scratch-and-dent" items for students to work through and design.  Langfeldt reflected on that first year.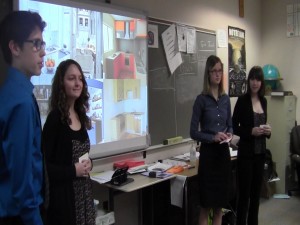 "Whirlpool was so invested in this Innovation Challenge that they literally put us in with these professionals, and it was really fun. It allowed me to see kinda how Whirlpool handles taking an idea that's just an idea and moving it into a first version prototype."
Once the competition officially begins, teams of three to five students form. They gather research and brainstorm solutions to their problem.  That is when they begin to innovate. Ideas are shared and presented in layouts that are designed to receive feedback. One layout that was specified by Whirlpool was called a BMC, a Business Model Canvas. This allowed students to touch on almost all necessary parts of inventing/innovating a new product.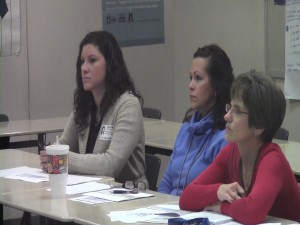 From beginning to end, students have gotten a lot out of the project.  They had to design and build prototypes.  They then marketed their solutions to committees of Whirlpool executives, teachers, and members of the public. 
Senior, Jessica Nelson said, "I think we got a lot of good experience in the real world of marketing and business and how to go about creating something to solve a problem."
Classmate, Carmela Lockwitz highlighted how hands-on the learning experience was. "We really found out, in a first-hand experience, how much thought and process goes into new products and how much companies really look to their consumers and care about what they want."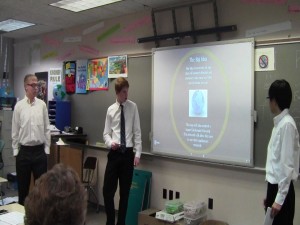 And that is what Sauer and Langfeldt were looking for.  Sauer commented on the value of outside voices. "It was really important to me that the PBLs (project-based-learning modules) do something rather than just perform for the teacher like 'Here. Here's what we think. Give us a grade.' Rather, [they] do something out there, that other people, non-teachers are seeing and saying, 'that's good' or 'that's not good. You need to do this instead.'"
Project-based learning like the Whirlpool Innovative Challenge allows students to experience real life situations that real businesses face on a daily basis.  Recent challenges have included: eliminating plastic bottle usage, developing new locker/storage system (mentioned above), finding water filtration solutions.  There has been a more open challenge too.  Sauer explained, "last year was like hey, your customers are ages 18-30, probably college students.  Come up with a product that Whirlpool could make for that population." 
Dozens of projects were pitched to committees of adults. The top 10 groups in the competition traveled to Whirlpool's headquarters in Benton Harbor, Michigan to give their final presentation for a chance to have their product implemented by Whirlpool.  Student motivation was high, and that is the goal for teachers and the Whirlpool executives.
Sauer and Langfeldt agreed, ""Hopefully it's kinda stimulating, hopefully it's not just about the grade, or maybe not about the grade at all particularly, but about just doing something that's just kind of motivating, kind of interesting, kind of fun to fool with."
Penn High School actively seeks partnerships with the community to aid in the education of its students.  Jim Langfeldt leads the way in that endeavor. ""It has always just made sense…seeing the types of things we do and knowing what industry is doing, it always made sense [to form partnerships between business and education]."