Girls Wrestling Season Recap

The Penn Girls Wrestling Team, ranked number 6 nationally, won state on Friday, January 13. This was a great way to finish off the season, and we were able to chat with some of the girls on the team about it.
Freshman Madison Raper talks about her experience as a new member to the team. "This was my first girls season, in middle school I was generally with the boys wrestling team, but it was really cool to have a team to be part of and to find other schools that have girls teams as well. I really enjoyed the season overall."
Madilyn Richardson, also a freshman, talks about her personal struggle to balance and adjust to the season at first, but how it proved to be a learning experience. "In the beginning, wrestling was pretty stressful…and it was really overwhelming, and so it wasn't that enjoyable at first. But, as the season progressed and we got closer to state, it became more and more like 'We got to get ready for this', and we worked really hard, and won state, [which] was the best part of the season."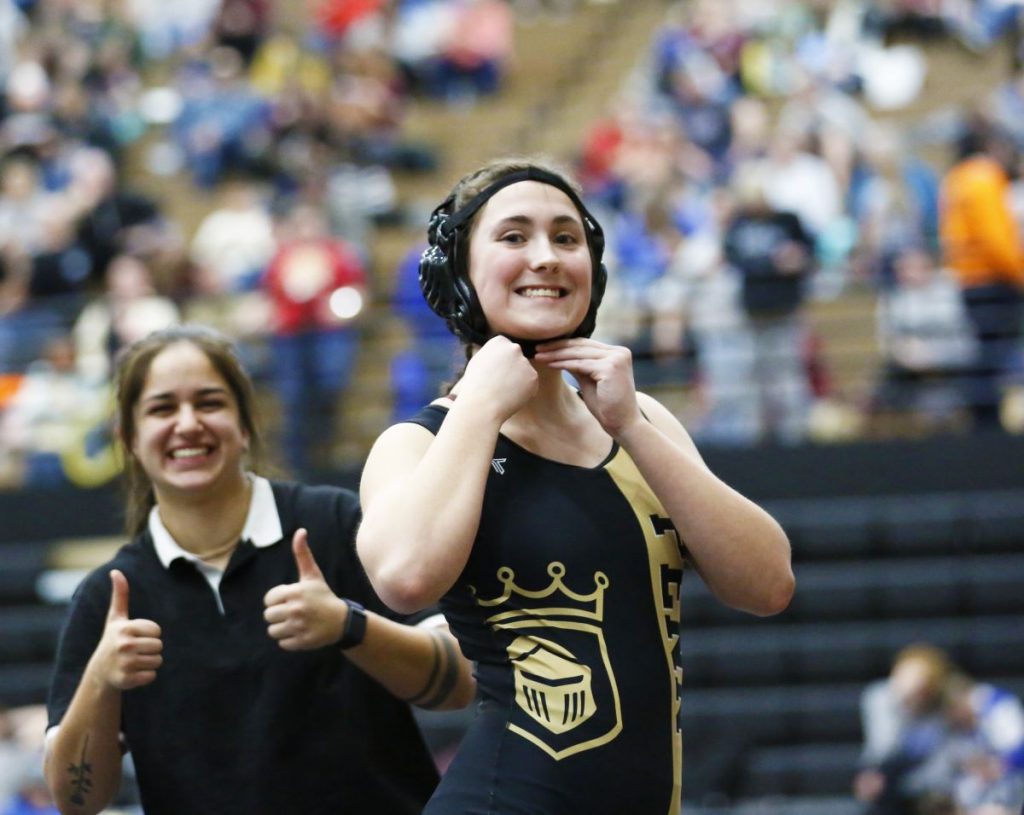 Seniors Morgan Xouris and Madison Hazeltine add on, reflecting on the positive atmosphere that led to a successful season, and how a major factor of the girl's success comes from the large number of freshmen added to the team this year. Madison Hazeltine says "I think we had a really good season, our team definitely grew with a lot of incoming freshmen, so hopefully that will lead us to do very well next year as well…I enjoyed [the season] and think it went well, and I'm excited to see how Penn does next season". Morgan Xouris elaborates, saying, "The atmosphere of the team was very good, everybody was always really supportive through the ups and the downs, and the incoming freshmen came in and they knew what to do, how to support everybody, so it was really good to have them on the team".
The new members contributed to a great sense of community within the team. This community grew even stronger because of the great student leaders they had, as well as the strong staff of coaches. Madilyn talks about the importance of her coaches and upperclassmen leaders. "All of our coaches are really ruthless and tough, but they just want us to work hard and make sure that we're doing the best that we can. They really do care about everybody on the team and want to make sure that everybody on the team is doing their best, and so there were some practices that they were in a bad mood and so we just ran the entire time, but they're really good coaches that just want the best for us. Our student leadership is really good, we had three seniors (Mackenzie Konanz, Madison Hazeltine and Morgan Xouris), [that] are really good at helping and teaching the freshmen and underclassmen things. They're all really good partners on the wrestling mat, and off the mat they're really good examples and role models and they embody everything that we would want on a team."
Madison Raper adds on, saying "They [the student leaders] really helped guide the team overall and helped us when we struggling at practice, at meets, or anything".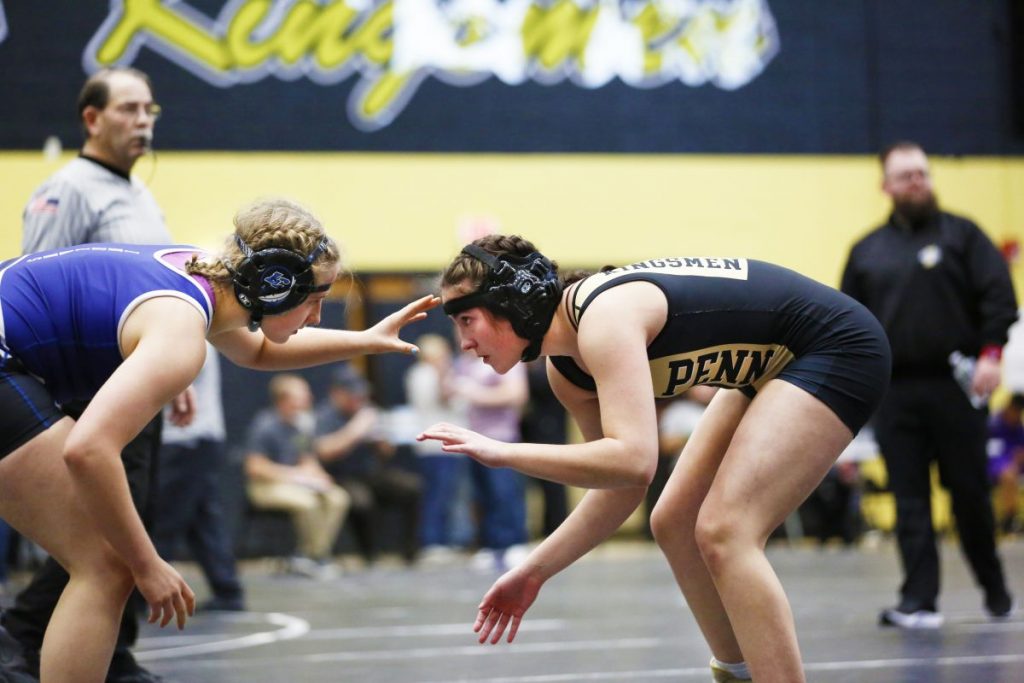 Some of this student leadership came from senior Mackenie Konanz, ranked number 20 nationally, who outright won state. Mackenzie made great contributions to the team, on and off the floor. Madison Hazeltine says, regarding Mackenzie, "I love her. I was very excited to see her go out there and get the spot she deserves. I think starting your high school career winning state and then ending it the same way is great for her. I cannot wait to see her go on in college…she'll do great."
Madison Raper agrees with her teammate, saying "She was always one of the bigger leaders on the team, she always knew what she was doing and was there at every practice. She helped people who were struggling; she was a really good leader".
Madilyn continues, saying "Mackenzie has always been really pumped up about everything…like the coaches, she really just wants everybody to do their best and be the best wrestler that they can be. She was keen on making sure everybody was working and that we were all doing things that we needed to be to be successful. Off the mat, as well, she was just a really good role model to everybody around her, everywhere."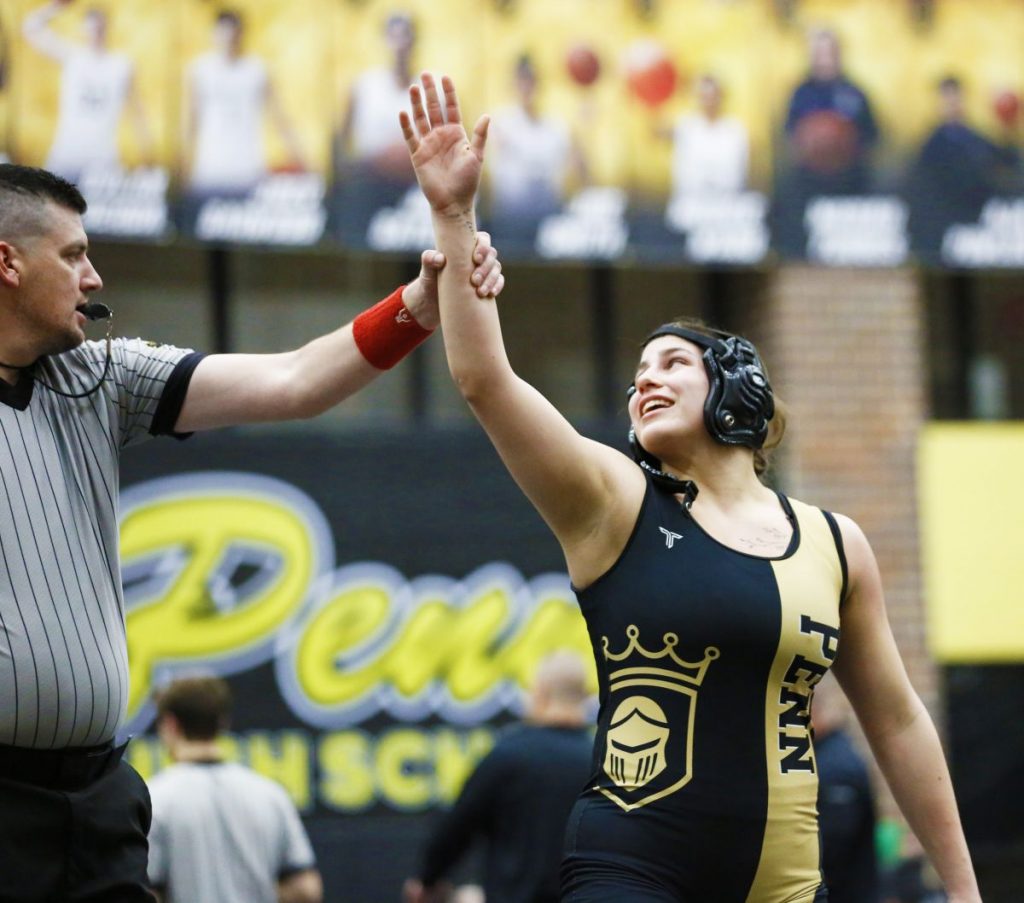 This year was obviously a great one, with positive team morale and a strong finish. But what's next? Madilyn talks about how she specifically wants to buckle down and get to state next year. "I didn't make it to state this year [individually], but next year I really do want to make it to state. I was only one match away from making it [this year], so I know I can do it. [I need to] make sure my head's in the wrestling state when I'm at practice…and make sure that I'm using the entire season as an opportunity to get better".
Madison Raper adds on, saying how she looks forward to actually wrestling at state next year after watching this season's leaders do well. "Even though I didn't get to wrestle at state, I'm still excited for future years to actually be the one out wrestling."
In conclusion, this team's chemistry and teamwork lends itself to a great season. Madilyn makes it very clear that this team has changed her life for the better, saying "You guys [teammates and coaches] are all really good role models for everybody on the team…everybody was working really hard this season and we can do even better next year…we can get more people to state."
Madison Raper finishes up nicely, reflecting on the community she has been a part of. "Thank you to all of my team, not just the seniors; everybody. Thank you for an amazing season."
Great work this season, girls. We can't wait to see your hard work next year!
Check out the video on YouTube: https://youtu.be/p5sOe4WXGuY