Indiana Wildlife Habitat Education Career Development Contest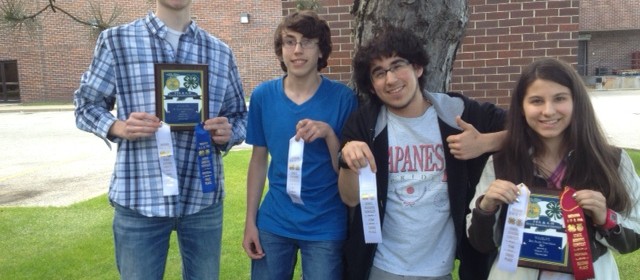 Purdue University held Indiana's Wildlife Habitat education career development contest this year, and it's where Isaac Loutzenhiser placed first overall in the competition.With this only being Isaac's second year in WHEP he quoted "WHEP has helped me become a leader and it has shown me how much I really do know about wildlife," and he plans to carry these skills with him throughout college.
Teammate Elena Effertz placed second overall as an individual as well. Coy Harris and Arithon Effertz, both first year as WHEP members, helped place the team in third overall.
Isaac Loutzenhiser is the team captain, and collaborates with Mr. Lenig to help the other members of the team study and get prepared for competitions. Isaac also has some advice for incoming members. "Have fun with it and if you have interest in it, definitely get involved with WHEP."
The team works hard year round to prepare for four different part of the competition, such as the Identification segment, which requires team members to remember as many as 53 different species.
A 100 question test over animal species, their habitat, feeding, and behaviors is also a part of the competition. After preparing all information, the team creates a Wildlife Management Plan for eight species of animals at a specific contest habitat site.
All members are energetic and ready to study for next year, and they all agree that they're ready to take on state next year.