New Teacher Profile; Chris Adamo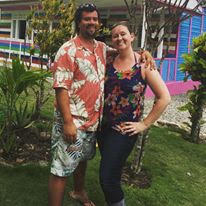 To start off there are a couple things that make Mr. Adamo recognizable. He's always wearing a suit, often makes the Spock symbol, makes students put their phones equidistant on the top and  left corner of the desk, has a Darth Vader mug, and has hockey jerseys lined up near his desk.
Often you can hear him shouting, maybe even louder than any other teacher in the school and then go into instant whisper. This is Mr. Adamo, a new freshman social studies teacher who has worked in the district for a decade.

He didn't start as a teacher though.  Rather, he found his profession through unique experiences. He started out as a History Major at Ball State. Having always had an interest in politics, he started working at the state-house supervising student-groups and helping with the page program. From there he held more important jobs in politics and even got an offer to come work in D.C..


To add more newness to his life he and his wife Erin, just had a baby girl, Eveline. After school  Mr. Adamo is coaching football at Grissom, playing hockey, taking classes (he's getting his bachelor's degree), and having just a little time before his daughter goes to bed to play with her and his wife. To add on more to his already busy schedule, he is interested in starting some new clubs at Penn.  He's really interested in technology and he also loves to ride his bike (he does Bike for Riley every year),  so he talked about maybe starting a tech club or a biking club. He also put in the idea of a radio channel run by Penn students.


When asked how to describe his personality, he says, "Bubbly". It was also clear from just meeting him quickly that his humor shines through. When asked what life was like when he was a kid, he says "I remember when I would push  a hoop down the street with a stick." He loves working with students of all ages, but he really loves working with older students, he mentioned "it's nice to get a more mature outlook." Even though he does love working with younger students he excited for the transition and said he believes "new is always good." Mr. Adamo has accomplished a lot in a short period of time and I'm sure he is going to continue to accomplish a lot  more. He's a very kind and caring teacher and is a great addition to Penn High School. We're excited to see him in our halls and make sure when you pass his room to give him the Spock sign.