Fitness Center Hours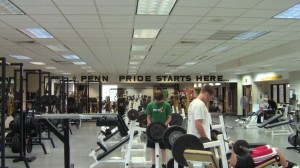 The Fitness Center will be closed on Thursday, November 24th and Friday, November 25th.  The regular hours for the Fitness Center are 5:45 to 7:45 a.m. Monday- Friday all P-H-M students,staff , commuinty are welcomed. 3:17-5:30 p.m. Penn students and P-H-M employees welcomed. 6:30-9:00 p.m. Monday-Thursday Penn students, P-H-M employees ,and residents of P-H-M School Corporation welcomed. 8:00 -12:00 p.m. on Saturday mornings Penn students,P-H-M employees and residents of P-H-M School Corporation are welcomed.
Basketball Tourments will take place in Fitness Center on Tuesdays begining on Tuesday November 22nd.  The Tourments will last from 3:30 -5 p.m.There is no cost to play  Students must have their school  ID and lock to participate. Locks are available for $5 in the fitness center.No experince is needed .On Wednesdays the Fitness center will have Pickleball from 6:30-8:45 p.m. Basketball on Mondays and Thursdays from 6:30 – 8:45 p.m.