IHSAA classifications announced
The IHSAA school classifications has been announced for the upcoming year
With these new classifications, not many changes come for the Penn Kingsmen.
In football, the Kingsmen will remain in 6A and is the 5th largest school in this class. IHSAA added 3 schools to 6A this upcoming year to make the class have 32 m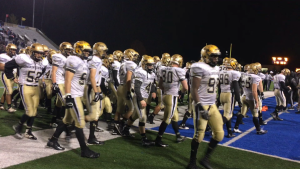 embers.
In other classes, sectional opponent Laporte has moved down to 5A and will now most likely be in the South Bend sectional. Mishawaka will now be playing down to 4A after choosing to play in 5A the last 2 seasons.This will be a huge move for the Cavemen as they will be the largest 4A school.
There will still be 4 classes for basketball, on the boys side Penn will remain in 4A and be apart of the 101 schools fighting
for the state title, the only change might come if the Kingsmen are moved from the Elkhart Sectional to the South Bend Sectional. The class ranges from Carmel who has 5,000 students, to newly added Columbia High School who has 1,056 students.
On the girls side, the biggest change in the area will be St Joe who will be moved up to 4A due to success the last 2 seasons in 3A. The 4A class will now have 101 members and will range from Carmel to Heritage Christian who has an enrollment of 407 students.
The biggest change will come in soccer where the IHSAA will add another class to make it 3 classes. Penn will be moved up to 3A in both boys and girls soccer. There will be 101 members in boys soccer 3A and 89 in girls soccer 3A.
Lastly, Volleyball will stay with 4 classes and Penn will be apart of the 100 member 4A class.
Click here to view the full IHSAA school enrollment and classifications list for 17-18 and 18-19 school year.